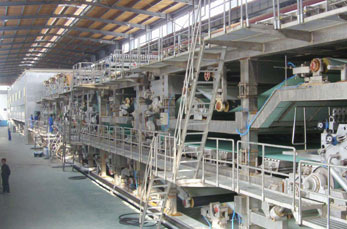 3700mm four layer kraft paper machine consists of headbox, wire section, press section, front drying section, sizing machine, back drying section, calender section and reeling section. Complete kraft paper machine production line can be provided by Leizhan company. Here are more information about 3700mm kraft paper machine.
Composition of Kraft Paper Machine
1. Headbox: with four air cushion type headbox, composition of kraft paper machine.
2. Wire section: four layer include top layer, lining layer, core layer and bottom layer. The main components are consist of breast roll , forming board, Dewatering board, vacuum box, composite roll, suction couch roll, wire drive roll , wire guiding roll and paper machine framework.
3. Press section: First press, second press, third press and fourth pressure. The first press is vacuum press with vacuum suction roll which equipped with one rubber coated metal roller, one vacuum press roll; The second and third press are all MG press and each with one upper and lower rubber coated metal roll; The fourth press is glossy press which equipped with one stone roller and one rubber covered metal roller.
4. Front drying section: Φ1500/Φ1800 dryer drove in groups and equipped with wire guiding roll , dry wire and closed gas hood.
5. Sizing machine: one surface chrome-plated metal roller and one rubber coated metal roll. its pressurized way is corrugated tire pressure.
6. Back drying section: Φ1500/Φ1800 dryer drove in groups and equipped with guiding roll, dry wire and closed gas hood.
7. Reeling section: Pneumatic horizontal reel machine and pressurized way is cylinder pressure.
Recycling waste paper always so through pulping, screening, cleaning and refining,etc. We are professional manufacturer of these stock preparation line equipment. If you are interested in start kraft paper making business, please feel free to contact us. Email address: leizhanmachine@gmail.com.