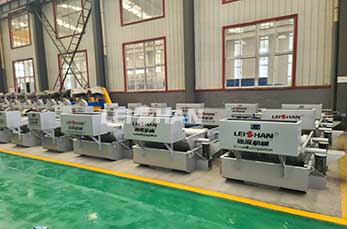 This vibrating screen consists of screen body, vibration exciter, damping spring, pulp storage box, water spray pipe, elastic coupling, etc. The application of the vibrating screen is screening rough pulp in the pulp and paper industry and it has high working efficiency, self-cleaning function and long service life.
Features about The Vibrating Screen
1. The pulp storage box is equipped with a gate that can adjust the pulp level. By adjusting the pulp level, the pulp is immersed in the lower part of the air seal chamber to form an air seal.
2. The lower part of the screen plate is designed with an air-sealing box, which has a self-cleaning function.
3. The eccentric rotor is built into the vibration excitation device, which is safe and durable.
4. Low power consumption, simple operation and convenient maintenance.
Zhengzhou Leizhan is a professional paper making machine and pulping machine manufacturer. If you are interested in our company's machine, welcome to consult us for more details.
Email: leizhanmachine@gmail.com