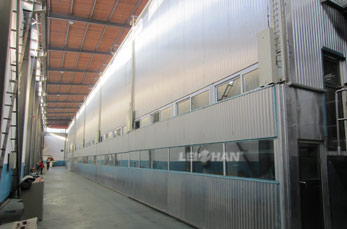 Dry section of paper machine is used for removing remaining water of paper web by evaporation. By using Leizhan multi-cyclinder drying, it can ensure maximum paper web drying efficiency with minimum energy consumption. After drying, finished paper dryness can reach and over 92% depending on the grade.
Components of dry section of paper machine contains: Dryer cylinder, Rotating joint and fixed siphon, Wire corrector, Wire tensioner, Leading roll, Paper leading roll, Dryer cylinder cleaning scraper, Lead paper cutter and device, Paper leading rope system ,Rack, Closed gear, Walking board.
Benefits of Leizhan drying solution
1. Controlled web shrinkage.
2. High end product quality.
3. Excellent dewatering result.
4. Low energy consumption.
5. Improved machine efficiency.
Leizhan provides the world's most comprehensive offering of Pulp & Paper making technologies including optimal drying solutions to paper manufacturers worldwide.