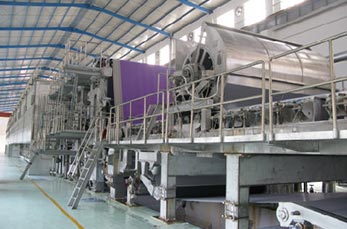 Raw material: Waste newspaper
Line: 100t/d printing paper making line
Main equipment: BFW series Chain conveyor, ZG series Drum hydrapulper,  ZSC series High density cleaner, ZNS series Outflow pressure screen, KH series Low density heavy impurity cleaner, ZNG High speed washer, DD series Double disc refiner

The whole 100t/d printing paper making plant by using waste newspaper as raw material contains 100t/d Waste newspaper stock preparation line and printing paper making line.
100t/d Waste newspaper stock preparation line
First of all, Waste newspaper is conveyed into ZG2750 Drum hydrapulper by BFW1400 Chain conveyor for pulping. After that, the pulp is conveyed into ZSC4 High density cleaner for pulp cleaning.
Then, it will be conveyed into ZNS1.2 1st stage coarse pressure screen for coarse screening. Moreover, the pulp will be conveyed into PZ2 Reject separator for tailing processing. It will be conveyed into MAC624-5 Closed multi-stage floatation cell for removing the ink in paper pulp.
In addition to that, the pulp will be processed by Low density cleaner group for removing heavy impurities in paper pulp. After that, ZNS3, ZNS1.2, ZNS 0.3 outflow pressure screen will be used for fine screening.
After fine screening, the pulp will come into High speed washer for pulp washing and concentrating. Finally, the pulp will be conveyed into DD600 Double disc refiner for improving the pulp beating degree and producing high quality finished pulp.
Printing paper making machine cost
As a China leading supplier of pulp and paper making machine line, Leizhan delivers the high performance and low cost printing paper making machine for papermaking. Leizhan cultural paper machine has a trimmed width range of 1880-3750mm and a basis weight range of 40-80g/m2. It can produce 20-270 tons of cultural paper with the working speed range of 200-1200m/min.