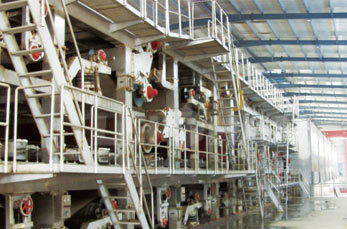 5600mm carton paper board making machine consists of a wire section, a press section, a drying section and a reeling section. The paper sheet is pressed for closed threading, and the paper is fed into the drying cylinder and the drying cylinder for cordless threading. The sizing application and the calendered paper use movable paper rope and vacuum paper tape to cooperate with the paper.
Main Specifications of 5600mm Carton Paper Board Machine
Paper type: Kraft paper, corrugated paper, T-paper
Basis weight: 70-160g/㎡
Sizing: 4-6g/㎡(double face)
Trimmed width: 5600mm
Reeling width: 5660mm
Wire width: 6250mm
Working width: 780m/min
Drive speed: 800m/min (motor 50HZ)
Dynamic balancing speed: 1000m/min
Roll paper roll dynamic balancing speed: 2500m/min
Climbing speed: 25m/min
Gauge: 7400mm
Production capacity: 750t/d
Leizhan offer unit waste paper recycling machine to make kraft paper, fluting paper or T-paper. Want to know more details about 5600mm Carton Paper Board Making Machine, contact us. Email address: leizhanmachine@gmail.com.