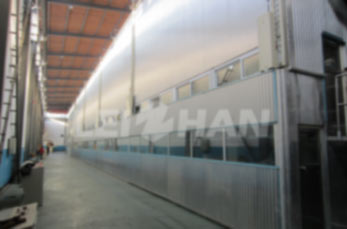 Four layer wire paper board machine, net paper width 3700mm, mainly used for making liner board. The paper machine is mainly divided into the following parts: headbox, fourdrinier part, press part, pre-drying part, inclined surface sizing machine, post-drying part, calendering part, and reeling part.
Main Information Of Paper Machine
1. Pre-drying part: Φ1500/Φ1800 dryer cylinder, group transmission, equipped with closed air hood.
2. Inclined surface sizing machine: One chrome-plated metal roller and one rubber-coated metal roller.
Leizhan is a professional pulp and paper making company, whcih integrating production, manufacturing and sales. Please email us if you have interest in our equipment. Our email address is: leizhanmachine@gmail.com.