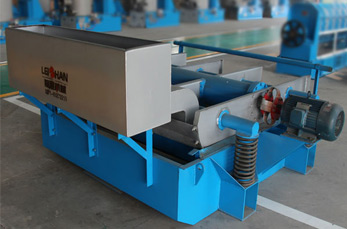 High-speed Vibrating Screen, a screening equipment for the pulp and paper industry. It is mainly used for the coarse screen of slurry and the treatment of tail slurry. The device uses spring and tape as the vibration damping device, bearing advantages of simple structure, convenient maintenance, low production cost, small floor space and high production efficiency. Let's me introduce you to its structure and working principle.
The Structure Of Vibrating Screen
It is mainly composed of a screen frame, a vibration system, a vibration damping device, a slurry chest,etc. The vibration of the screen frame is achieved by two eccentric wheels mounted on the main shaft. The main shaft is connected to the motor by a flexible coupling, and the screen frame is supported by a spring; the utility model has the advantages of simple structure and good practical performance.
The Working Principle of Vibrating Screen
The slurry flows into the screen frame from the feed box, and the coarse impurities in the slurry are screened by the high frequency vibration of the screen frame. The good slurry enters the slurry chest through the sieve plate and is discharged from the slurry outlet, and coarse impurities are discharged from the ends of the screen frame.
Leizhan company has many years of experience in producing Vibrating.And we also offer the whole set of Paper Making Machine. Welcome to contact us for more details. Email: leizhanmachine@gmail.com