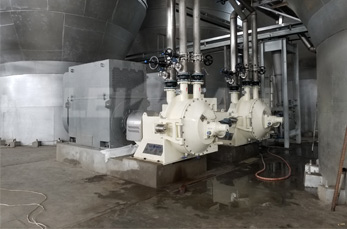 Leizhan is a professional manufacturer of pulp paper equipment. Double Disc Refiner designed by Leizhan engineer,
which adopt constant power system to maintain stable beating effect, and accurate retract mechanism make it easy
to control.
Main Application and Features of DF Series Double Disc Refiner
1.Mainly used for pulping, impoving slurry beating degree to meet the paper making needs.
2.It can be installed various tooth refiner plates. Suitable various raw materious such as wood pulp,mechanical pulp,
chemical pulp, waste paper pulp etc.
3.Adopt constant power control system, beating effect is stable.
4.Accurate retract mechanism,easy to control,the beating effect is good.
Leizhan company is a leading manufacturer of paper making machine in China, we committed to providing high-
quality services and products in paper pulp industry. If you want to know more about our paper making equipment,
welcome to contact us for more details. Email address: leizhanmachine@gmail.com