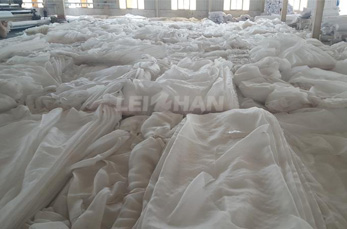 Paper machine spare parts felt fabric can remove impurities, water absorption and draft paper. Our paper machine fabric felt use full chemical fiber needle felt. Needle felt has the advantages of fast dehydration, low moisture absorption, and no need to burn. But how to choose paper machine fabric felt ?
Selection Of Paper Machine Felt Fabric
Generally, thin-sheet paper machines with fast speeds are made of quad-ply, plain or wave twill base fabrics, and the basis weight is about 700 grams. When the blanket printing is required to be light, the speed is not too high. Can be in the first 730-750, the weight of the carpet must be 50 grams higher, depending on the structure of the woolen cloth and the specific gravity of the cloth and the vacuum pump power of the paper machine, the size of the water pressure, the diameter of the roller Depending on the configuration such as pressure and dryer size.
Besides, we can provide paper machine doctor blade, dryer cylinder, cylinder mould and haedbox, etc. Welcome to consult me for more details about paper machine spare parts. Email address: leizhanmachine@gmail.com.