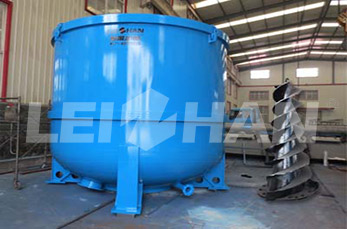 High consistency hydrapulper can quickly disintegrate waste paper under the condition of high concentration and water temperature of 60-90°C. At the same time, the ink particles and fibers are separated by the action of chemicals. Ink particles and impurities should be kept as large as possible, so that subsequent ink removal, screening, and purification processes can be carried out smoothly.
Waste paper is used to produce high-whiteness pulp, and steam, medicine and power consumption are saved. High Consistency hydrapulper is one of the indispensable core equipment in the deinking and pulping process of waste paper.
High consistency hydrapulper adopts a vertical structure, which is mainly composed of a trough, a rotor, a transmission part, a pulp tray, a bracket and other parts. High-consistency hydrapulper has a compact structure and is easy to operate and maintain.
As a world-renowned supplier of paper making equipment, Zhengzhou Leizhan Machine has always been known for its leading technology and excellent quality. If you are interested in our pulp and paper equipment, welcome to contact us for more details.
Email: leizhanmachine@gmail.com