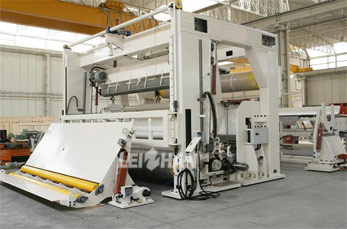 Utmost reliability and capacity that definitely meets paper machine's needs – that's the best way to describe Leizhan's rewinder machine. Leizhan professional engineers help paper producers to find right winder for each winding need for all paper, board and pulp grades. Over decades of years Leizhan has delivered many rewinder machines for paper processing system to satisfied customers around the world. Our wide experience and contribution to parent roll handling and rewinder technology are without a doubt.
Main components of rewinder machine
Leizhan-supplied rewinder machine consists of the following components: unwinding device, stretching device, lead roll device, paper cutting device, rack device, transmission device, constant tension testing device, supporting roll device, shaftless winding device, pressing paper device, pushing paper device, discharge device, curved roller device, and sheet fed device. and electric, air, hydraulic control system.
Optimal Leizhan winders are all known for
1. High capacity
2. Good runnability
3. High quality rolls
4. Reliability