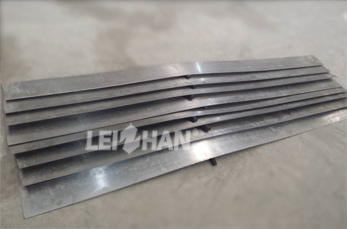 Leizhan utilizes advanced technology and innovation to offer perfect paper and pulp making solution for pulp and paper making project. Leizhan deliver paper devices and spare parts for paper mill, like screen equipment, cleaning equipment, refining equipment, pulping equipment felt, blades, sieve cylinder, etc. Pneumatic blade supplied by Leizhan has various types, including Double pneumatic single scraper, Double pneumatic double blade, Jank wrinkle pneumatic scraper.
Structure of pneumatic scraper
The pneumatic blade is made of stainless steel. The Scraper device has three parts: Pneumatic thumb, scraper body and pendulous device.The core component is pneumatic thumb and it is connected to the blade body through shaft. Scraper body is used for fastening pneumatic thumb, and it must have enough rigidity and straightness. In order to better protect the roll surface, the blade need to reciprocate swing in a uniform speed. The swinging device has two types: pneumatic and electric. For the convenience of roll changing , you can add a cylinder rotation on the blade body to get more space.
Benefits of Leizhan pneumatic blade
Easy to change.
Increase the dryness of sheet greatly.
Prevent the formation of broken paper and paper defect effectively.
Customized design offering.
Better rigidity and stable wrinkling effect.