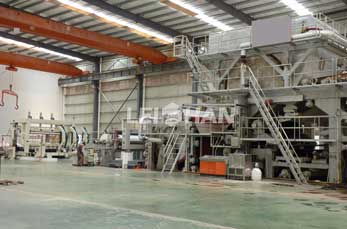 2850 fourdrinier tissue paper machine usually makes living paper. There are five parts are included in this types of tissue paper machine. The trimmed width is 2850mm.
Structure of 2850 Fourdrinier Tissue Paper Machine
1.Headbox: Hydraulic headbox, through controlling input pulp main pipe inflow pressure and the opening degree of top and bottom lip of headbox
2.Wire part: single fourdrinier, main parts: breast roll, forming plate, dehydration plate, vacuum box, etc.
3.Press part: divided into main press and carrier roller press. Main press is double roll press, and equip with each one high and low covered rubber metal roll
4.Drying part: Divided into two large cylinders. The pressure way is air cylinder pressure and gravity pressure respectively.
5.Reeling part: Pneumatic horizontal type winding machine, air cylinder pressure.
All machines used in the tissue paper making line are provided in Leizhan. There are own factory, professional engineers and skilled workers. Welcome to contact us. Email: leizhanmachine@gmail.com