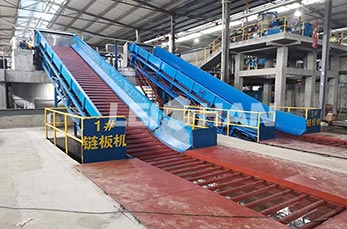 Many paper mills will choose chain conveyors for raw material transportation. Save manpower and increase production efficiency. In the long run, it can bring greater economic benefits to paper mills.
Paper Mill Chain Conveyor Advantages
a. The groove plate is stamped and formed at one time, which is durable and has strong impact resistance
b. Equipped with a hard tooth surface reducer, the safety factor is high.
c. There are V-shaped guard plates on both sides of the chain plate, which improves the conveying capacity, ensures that impurities do not slip to the rollers.
d. There is a chain plate tightness adjustment device at the tail to avoid the phenomenon of derailment caused by changes in the tightness after a period of use.
The paper mill chain conveyor has no wearing parts and is suitable for various raw materials such as waste paper and pulp board. If you are interested in the specific parameters of the paper mill chain conveyor, you can consult us at any time.
Email: leizhanmachine@gmail.com