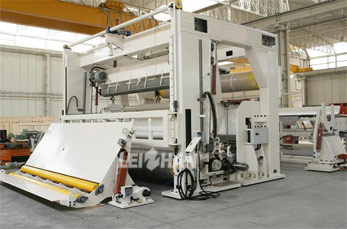 As a supplier of complete paper manufacturing lines, Leizhan can supply the whole paper making system as well as spare parts to paper mill. Leizhan develops innovative and efficient rewinder solution for paper production project to meet the specific requirements of paper mill.
Leizhan rewinder machine comprises the following components: unreeling stand, leading roll, curved roll, top circular knife device, bottom circular knife device, Main frame device, Press paper device, Discharging device, Supporting roller device and so on.
Working principle
Paper rolls are taken down from reeling machine and put them on the unreeling stand. The unreeling stand is equipped with alternating-current generator. Optical-electricity encoder control the system constant tension by using tension sensor and it can stop quickly when paper breaks. The put paper roll downward lead to paper web along the paper guiding roll. By using curved roll, the paper enter the slitter equipment.After tension sense roll, another curved roll, the paper wind on the paper roll holder. The paper roll holder depend on the drive of supporting roll and turn around. Then the whole paper web go forward.
Advantage of rewinder machine
Compact structure, easy operation
High precision tension control
PLC controller system