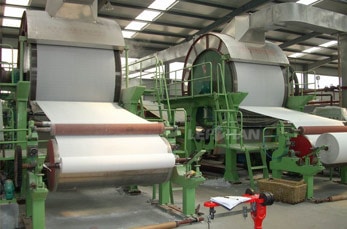 Full automatic 2880mm toilet tissue paper making machine adopted inverted pulp to produce living paper. The toilet tissue paper machine consists of wire section, press section, dryer section and reel section. The living paper mill owner usually use virgin pulp or waste paper( with ink ) to make new paper. Our company provide complete equipment for production of toilet tissue. 2880mm toilet tissue paper machine main specifications as below.
Main Specifications Of 2880mm Toilet Tissue Paper Machine
Production type: toilet paper, tissue paper, napkin paper, etc.
Trimmed width: 2880mm
Basis weight: 14-40g/m²
Operating Speed:170-200m/min
Design speed: 220m/min
Daily production: 10-12T
Calculate copy rate: 95%
Calculate daily operating hours:22.5 hours
Calculate product rate: 95%
Dryer cylinder: 3000mm×3280mm
Cylinder mold: φ2000mm×3280mm
Toilet Paper Deinking Line Pulping Equipment
Chain conveyor → High consistency hydrapulper (Add chemical reagent) → Fiber separator → Reject separator → High density cleaner → Fine screen → Stock washer → Refiner → Approach system → Inflow pressure screen → 2880mm toilet tissue paper machine
Leizhan is professional manufacturer of pulping equipment, the pulping equipment also used in packaging paper pulping line or culture paper pulping line. Our technical engineer will make a proposal quickly according to the customer's raw material and capacity. Email address: leizhanmachine@gmail.com.