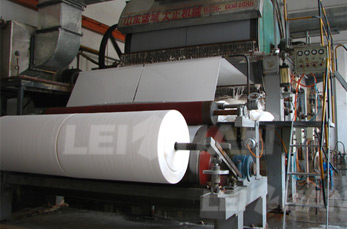 2850mm fourdrinier tissue paper machine use wood pulp as raw material to forming slurry. High density cleaner removing impurities in slurry and double disc refiner improve beating degree of slurry and then through approach system before paper machine enters into tissue paper machine. The tissue paper machine mainly divided into five parts, headbox, wire part, press part, drying part, reeling part. The details of every part as below.
Headbox
Hydraulic headbox, by adjusting and controlling the feed pressure of the main pipe of the headbox and the opening of the upper and lower lip plates of the headbox, the sizing pressure head and the concentration of the surfing slurry can be controlled and stabilized.
Wire Part
Single fourinier, main parts: breast roll, forming plate, dehydration board, vacuum, couch roll, drive roll, guide roll and frame,etc.
Press Part
Press part is divided into main pressing, roll press. Main press is double roll pressing,with the next package of metal roller each one; idler press for the roller and 1 # composed of large cylinder press, with a plastic coated metal roll.
Drying part
1 # large cylinder: Φ3000/Φ3600 dryer cylinder, single transmission. With closed hot air hood. with wrinkle doctor,clean doctor each one.Pressured way is cylinder pressure. 2 # large cylinder:Φ3000/Φ3600 dryer cylinder,single transmission.With dry wire and guide roll.not hood.With 1 clean doctor .Pressured way is gravity pressure.
Reeling Part
Reeling part:horizontal pneumatic rollers,Pressured way is cylinder pressure.
We can supply complete high quality pulping equipment of 2850mm fourdrinier tissue paper machine pulping line. Our professional engineer will design low investment proposal based on your raw material and capacity. Welcome to consult me for more detail. Email address: leizhanmachine@gmail.com.