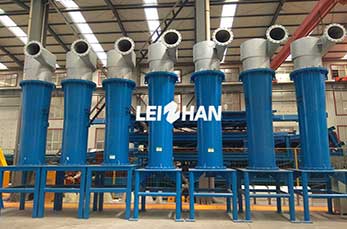 High density cleaner is a kind of slag removal equipment for purifying pulp with high concentration. The high density cleaner uses the difference in specific gravity between fibers and impurities to separate heavy impurities from pulp to achieve the purpose of pulp purification. High production capacity, long service life.
The Features of High Density Cleaner Paper Machine
1. Double-cone structure, the cone is made of wear-resistant ceramics, which has strong separation ability for heavy slag and long service life.
2. Automatic slag discharge uses penetrating pneumatic valve, which is reliable in operation.
3. The pulp goes through the Cleaner once, without tailing pulp processing equipment, the fiber loss is almost zero.
4. Large diameter feeding tee, low pressure and low power consumption.
Leizhan is a professional pulp and paper machinery manufacturer, we can provide a full set of pulp and paper machinery. If you are interested in our company's products, welcome to consult us for more details.
Email: leizhanmachine@gmail.com