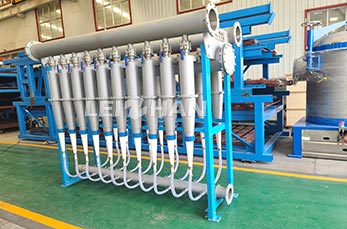 The Low Density Cleaner adopts the principle of vortex current centrifugal purification, taking advantage of the fact that the consistency of most plastic impurities, waxes and hot melt adhesives in the waste paper pulp is lower than that of fibers and water, and uses centrifugal force to separate fibers and impurities. The working consistency of the Low Density Cleaner is below 1.2%, and it is suitable for both fine and coarse screens. And it can also be made open or closed.
Main Feature Of Low Density Cleaner
1.Adopting a split design, the cleaner can be divided into 3-4 parts for easy disassembly and replacement.
2.Different slag discharge methods: open and closed slag discharge to meet different working environments.
3.The bottom of the cone is made of wear-resistant ceramic cone. Moreover, the number of cones can also be adjusted and the service life is long.
Our company uses the most cutting-edge technology and equipment to provide high-level services to create quality-assured products and solutions for customers. If you want paper machine or pulping equipment, please contact us.
Email:leizhanmachine@gmail.com