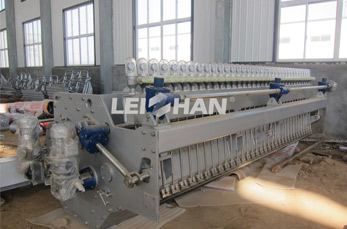 Headbox is the key component of modern paper machine. It is also one of the fastest-growing components of modern paper machines, especially new and modern high-speed paper machines, with speeds of several kilometers per minute and a width of more than ten meters. On this high-speed wide paper machine, it takes only a fraction of a second  for pulp to be ejected from the headbox to be finalized. In such a short period of time, it is difficult to make uniform and uniform paper sheets on the wire alone. It is necessary to ensure that the paper material bumped out from the headbox along the full width of the paper machine is stable and uniform, and the fibers are fully dispersed.
Main Tasks Of Headbox
Effectively disperse fibers, avoiding fibers precipitation and re-flocculation, and effectively improve the strength of paper.
Distribution of paper materials evenly and horizontally along the paper machine, determining the transverse quantitative distribution of paper width.
Spraying pulp stably to ensure the consistency of pulp speed and wire speed, determining the vertical and quantitative distribution of paper width.
Headbox plays such an important role in Waste paper recycling Line,therefor, advanced and high-quality headbox is necessary for each paper mill. Our Company enjoys a fourty-year brand of Puulping and Paper making machine, contact us you can receive good service and machine. Welcome to consult us, our professional engineer team will help you as soon as possible.
Email: leizhanmachine@gmail.com