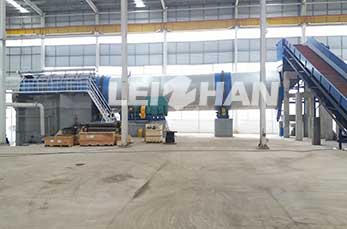 The drum pulper integrates pulping and coarse screening, and is used to continuously pulp various waste papers (newsprint, industrial board paper, mixed waste paper, etc.). The drum pulper is divided into three working areas: pre-soaking area, high density pulping area and screening area. High pulp quality and low rate fine fiber loss.
Main Features about The Drum Pulper
1. Energy saving. The waste paper is pulping under high concentration conditions of 15-20%, which reduces a large amount of water for pulping and reduces the energy consumption of pulping.
2. Continuous pulping and slag discharge reduce the energy consumption of auxiliary equipment and subsequent equipment.
3. High pulp quality. Gentle pulping does not destroy the strength and length of the fiber, and ensures that light impurities and some heavy impurities are not disintegrated to the greatest extent, thereby ensuring the cleanliness and quality of the pulp.
4. Low equipment maintenance costs and labor saving. The drum pulper has a simple structure, is durable, has extremely low maintenance, and it integrates high density pulping and coarse screening that reduces the labor of waste paper sorting, thus saving costs.
Zhengzhou Leizhan Company is a professional manufacturer of paper making machine and pulping equipment. We can not only provide you with suitable machine to meet your needs, but also have professional personnel to answer your questions. If you are interested in our machine, welcome to consult us.
Email: leizhanmachine@gmail.com