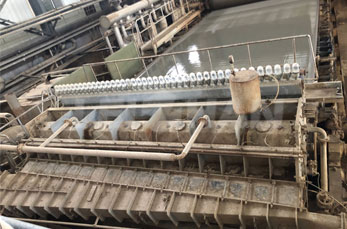 Kraft Liner Paper Machine is composed of wire section, press section, drying section, sizing section, reeling section, transmission section, foundation section and so on. After our good impurity removal pulping system, the final kraft liner paper produced has high fiber density, good toughness and high water resistance. We are able to provide complete stock preparation line equipment and kraft paper machine.
More Information About Kraft Liner Paper Machine
Main Product: kraft liner paper
Basis Weight: 120-300g/m²
Production Capacity: 100t/d
Operating Speed: 80-160m/min
Design Speed: 200m/min
Crawling Speed: 30m/min
Dynamic Balance Speed: 300m/min
Wire Width: 3150mm
Rail Distance: 3800mm
Paper Machine Operation Process: Wire section-K type vacuum press-Two large roll diameter press-18 Ø1800mm drying cylinder group-805/800mm diagonal sizing machine -10 Ø1800mm drying cylinder group-Ø550/Ø550mm calender-Ø1100mm horizontal winding machine
Considering the market orientation, Leizhan is specialized in complete set of screening, slag removal, pulping and refining equipment. Now Leizhan has 40 years of experience in the paper machine industry, very professional in pulp and paper production lines. If you have needs for paper pulping equipment, please contact us. We have professional technicians to provide you with suggestions.
Email address: leizhanmachine@gmail.com .