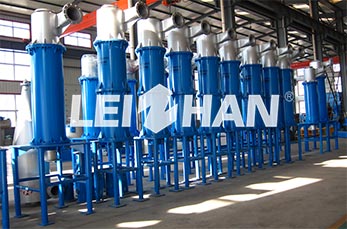 High Density Cleaner uses the centrifugal principle primarily to remove reject from the pulp. It can be used in various pulp cleaning systems to remove heavy rejects. The High Density Cleaner is installed after the pulping phase and is mainly used for a continuous elimination of contaminants such as stones, woods, metallic and plastic parts contained in paper pulp making process, from waste paper or cellulose at consistency between 2-5%, whose purpose is to reduce the burden of subsequent machine installed in the successive working phases.
Main Features of High Density Cleaner
1. To remove heavy rejects such as glasses, iron chips, stones and large ink particles.
2. It is equipped with volute pulp inflow chamber, the eddy ability is strong and low pressure area subarea is obvious, which makes accepts and impurities separate thoroughly.
3. Wear resistance ceramics cone, which can maintain a long working life.
4. Specially designed long cone and fine cleaning efficiency.
5. Large production capacity and high efficiency.
6. Simple operation, easy to control and sufficiently discharging impurities.
Leizhan is a professional manufacturer of pulp and paper equipment with professional skill and positive innovation spirit. If you are interested in our products, we will offer you product details and working knowledge. Welcome to email or message us. Our email: leizhanmachine@gmail.com