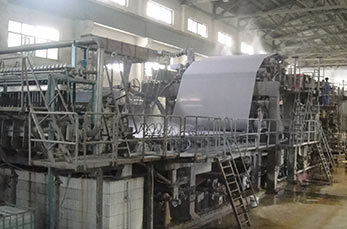 By using Leizhan art-of-the-art living paper machinery, living paper like copper printing paper, toilet paper, tissue paper, napkin paper, facial paper, kitchen towel paper can be produced . To produce  copper printing paper, Paper manufacturer can choose commercial wood pulp, white shavings, rice straw, wheat straw and bagasse as raw materials.
Leizhan supply the whole copper printing paper making line for waste paper recycling system. It contains two parts: copper printing paper pulp making system and copper printing paper production machinery.
Copper printing paper pulp making system
Machines contain in the Copper printing paper pulp making system includes: Chain conveyor, Drum hydrapulper, High density cleaner, Mid consistency coarse pressure screen, Reject separator, Closed multi-stage flotation cell, Low density heavy impurity cleaner,  Mid consistency fine press screen, High speed washer, Double disc refiner…
Structure of copper printing paper making machine
Leizhan advanced copper printing paper making machinery contains the following parts: headbox–single fourdrinier wire–Vacuum move roll–main press part–dryer cylinder–sizing machine–calendar–reeling machine.