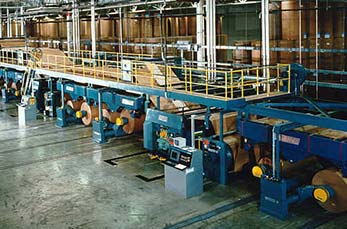 Leizhan to supply complete production line for making low basis weight Corrugated paper board. China Leizhan's supply for Paper Industry range from individual equipment or some parts of the system to full turn-key project.
The whole paper making project contains: Pulp processing line and paper production line.
Pulp processing line
Leizhan provide tailored pulp processing design for paper plants from the conveying of raw material to the forming of the fine pulp. The pulp processing line contains the following parts: Conveying(Chain convey), Pulping(Drum pulper, D type hydrapulper, etc.), Cleaning(High density cleaner, Low density cleaner), Screening(Pressure screen, Reject separator, etc.), and Refining(Double disc refiner, conical refiner).
Paper production line
The low basis weight Corrugated paper board manufacturing system contains headbox, wire section, press section, dryer section, pope reel. Every section of the paper machine will be well designed to meet customers' needs.