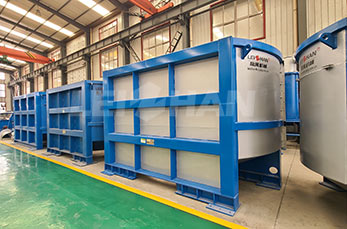 The D shaped structure design of the D type hydrapulper can make the waste paper contact with the rotor more quickly and at a higher frequency, shortening the pulping time and increasing the production capacity. Following are the main advantages of this D type hydrapulper.
Main Advantage of D Type Hydrapulper
1.The rotor and the pulping disc are higher than the bottom board of the pulper groove, which can reduce the contact between the rotor and impurities, extend the service life of the rotor, and prevent the rope from winding on the rotor, so as to protect the rope and the rotor from being damaged.
2.The gap between the rotor and the screen plate of this D type hydrapulper can be adjusted to ensure high efficiency pulp output.
3.The D type hydrapulper is equipped with automatic slag discharge device and pneumatic valve.
Leizhan can provide high quality pulp and paper machine and related vulnerable parts for paper mills, if you need, please contact us for the price.
Email:  leizhanmachine@gmail.com