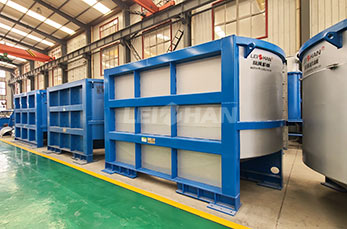 D type hydrapulper is a special equipment for pulping all kinds of pulp board, damaged paper and waste paper. The equipment adopts a D-shaped structure to improve work efficiency. D type hydrapulper is the world's most advanced pulping equipment for waste paper pulping and paper making.
Main Features of D Type Hydrapulper
1. The new type energy-saving VOKES rotor consumes less power and has high pulping efficiency.
2. The gap between the rotor and screen plate is adjustable to maintain stable and high pulping efficiency.
3. The fine pulp chamber flange is built-in for easy installation and maintenance.
4. Equipped with European standard pulleys to shorten maintenance time, improve work efficiency and reduce operating costs.
Leizhan has been focusing on waste paper pulping for many years and can provide paper mills with a complete set of pulping and paper making equipment. Please feel free to contact us if you have any needs.
Email: leizhanmachine@gmail.com