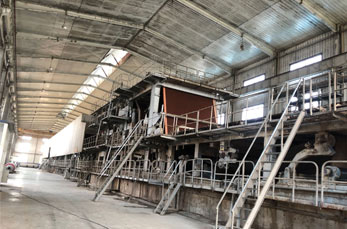 T-paper is low strength corrugated paper, which can be obtained by recycling waste paper. The 2800mm double layer multi-cylinder paper machine mainly used to produce 70-180g/㎡ T-paper. 2800mm T-paper making machine consists of wire part, press part, drying part, sizing part, reeling part, etc. After recycling waste paper, and another a series of process about remove impurities, the final T-paper has the advantages of uniform paper, strong tension and high smoothness.
Flute T-paper Making Machine
Raw material: waste paper
Production capacity: 200t/d
2800mm paper machine manufacturing process: Headbox → Double layer wire part → Vacuum part → Large roll press → Dryer cylinder → Sizing → Calener → Reeling machine
2800mm T-paper making production line included stock preparation line equipment and paper machine making line can be provided by Leizhan, want to start paper making business, welcome to contact us for more details. Email address: leizhanmachine@gmail.com.