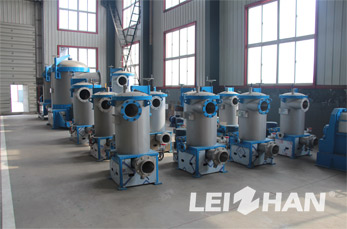 The pressure screen adopts the up-flow structure design of pulp inflow from bottom, heavy impurities are discharged from bottom and light impurities from top, which can be widely applied to coarse screening of waste paper pulping, and screening of pulp before paper machine. As a pulping equipment, pressure screen belongs to equipment accessories.
Pulping Machine Pressure Screen
1. Feeding pipe: Install the valve, and set the bypass clear water pipe on feeding pipe to prepare for flushing the sieve drum and casing. The feed pressure is 0.1-0.25 Mpa.
2. Outlet pulp pipe: Install the valve, the diameter of pulp pipe is arranged according to the diameter of pulp outlet, and the pressure difference between pulp inlet and pulp outlet is 0.01-0.04Mpa.
3. Tail pulp pipe: Install the valve, and the diameter of tail pipe is arranged according to the diameter of tail pulp mouth. The opening degree of tail pulp mouth depends on the type and quality of slurry.
4. Mechanical seal water pipe: water pressure is higher than the feed pressure 0.05Mpa flow: 6-12L / min.
5. Exhaust pipe: The pipe is arranged at the top of upper cover to discharge the air inside machine. The valve should be arranged here, and the external connection is hose connection, which facilitates the lifting of upper cover.
Our company is professional at offering pulping machine for almost four decades, if you have any demands or question, welcome to consult, our salesmanager and engineers will provide you good service and help. Email address: leizhanpulper@gmail.com.