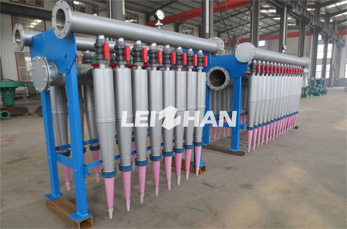 The working principle of Light Impurities Cleaner and High Impurities Cleaner is separated through centrifugal sedimentation by density difference, the difference of density between many heavy impurities and fibers is large, and the difference of density between light impurities and fibers is small, so the latter requires stronger centrifugal separation conditions.
Working Process Of Cleaner
1. From the conditions of centrifugal separation, the Light Impurities Cleaner is a low-concentration impurities cleaner, and the cleaner is of small diameter (Φ70-80 mm) to enhance centrifugal separation.
2. The High Impurities Cleaner can be of large diameter. Generally, the diameter is above Φ150mm, and some can reach hundreds of millimeters. Only when heavy impurities with small impurities or small difference in density are removed, Φ70mm slag removal is adopted.
3. The High Impurities Cleaner can also work under high concentration. The high density cleaner and medium density cleaner are heavy impurities cleaners. Some high density cleaners can also work under low pressure differentials, so can be called low pressure cleaners.
Any interest or demand, feel free to contact with us. Email address: leizhanmachine@gmail.com.