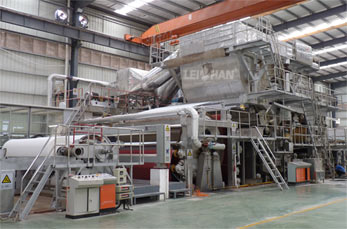 LEIZHAN is an experienced and proven partner to the tissue/toilet paper plant. Through continuous development and project experience, LEIZHAN offers world-class tissue/toilet making machines and components with innovative features for paper plant to produce small roll and jumbo roll tissue, napkin tissue, facial tissue, kitchen towel, toilet paper, etc.
Leizhan specifically designed tissue/toilet paper manufacturing line can be divided into two parts: tissue/toilet paper pulp processing line and paper making line.
Tissue/toilet paper pulp processing line
Machines required in the tissue/toilet paper pulp processing line include: pulping machine(D type hydrapulper, vertical hydrapuper, etc.), cleaning machine(high density and low density cleaner), screening machine(mid consistency pressure screen, vibrating screen, low pressure screen, etc.), and some other paper pulping equipments like pulp chest agitator, fiber separator, double disc refiner, etc.
Tissue/toilet paper manufacturing machine
Leizhan high speed tissue/toilet paper manufacturing machine has a basis width range of 1575-3600mm, the tissue paper making project can produce 5-50 tons of facial tissue paper per day, using commodity wood pulp and white shavings as raw material. It has a basic weight range of 13-40g/m2 and the design speed range from 180m/min to 800m/min.