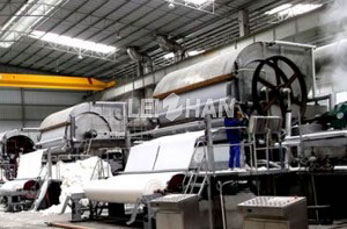 To help customers produce high quality tissue/toilet paper, our company provide small or medium yield tissue paper making line machine. The tissue paper making line machine has advantages of good efficiency and excellent quality, which could make accepted pulp and let paper more softer.
Tissue Paper Machine Overview
1.Production capacity: small or medium yield.
2. Paper kind: high quality tissue paper, toilet paper with more softer.
3. Raw material: wood pulp, white shaving, waste paper with no deinking.
4. Trimmed width: design according to you need
5. Some pulp equipment in paper making line: hydrapulper, high density cleaner, pressure screen, paper machine spare parts, etc.
6. Note: our professionals can design paper making line machines according to your requirements such as raw material and output.
Leizhan provide small or medium yield tissue paper making line machine, included tissue paper making machine, pulp machine, paper machine spart parts and so on. About any problems or details, welcome to contact us.
Email: leizhanmachine@gmail.com