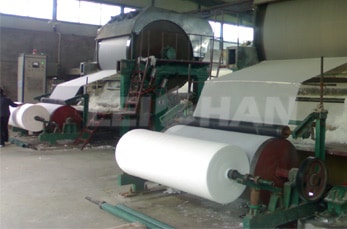 Tissue napkin paper has a large consumption in our daily life. 7TPD tissue napkin paper product line use wood pulp and white shavings as raw material, and then enters into pulper machine, pulp cleaning, pulp screening and refining machine. Unit pulp processing line equipment of napkin tissue paper provided by Leizhan company. After a step-by-step pulp cleaning, screening and refining, the final paper has the advantages of strong water absorption, soft paper, uniform thickness.
7TPD White Shavings Wood Pulp Pulping Line
Chain Conveyor → Middle Consistency Hydrapulper → High Density Cleaner → Inclined Thickener → Conical Refiner → Double Disc Refiner → Inflow Pressure Screen → Tissue Napkin Paper Machine
Whole set stock preparation line equipment of tissue napkin paper can be provided by Leizhan company. Want to know more details, please contact us. Email address: leizhanmachine@gmail.com.