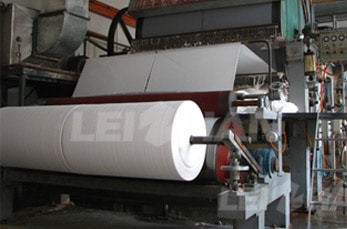 Toilet tissue paper, napkin paper, facial tissue paper are always in great demand in our daily life. The final product of 3600mm wrinkle toilet paper machine can be process into these paper type. The wrinkle toilet paper machine are able to deal with all kinds of raw materials like virgin pulp or waste white shavings. We are professional manufacturer of pulping equipment and has 40 years manufacturing experience. Leizhan offer complete toilet paper pulping line equipment and turnkey project. Following are details.
3600mm Wrinkle Toilet Paper Machine Details
Raw material: virgin pulp
Output paper: high grade wrinkle toilet paper
Trimmed width: 3600mm
Working speed: 220-250m/min
Design speed: 300m/min
Production capacity: 16t/d
Gauge: 4700mm
Transmission mode: AC motor, branch change, frequency conversion speed regulation
Arrangement: single-layer arrangement, left and right arrangement
Leizhan manufacturer whole set of waste paper recycling pulping line equipment and save energy consumption effectively. Want to start toilet paper making business, please feel free to contact me. Email address: leizhanmachine@gmail.com.