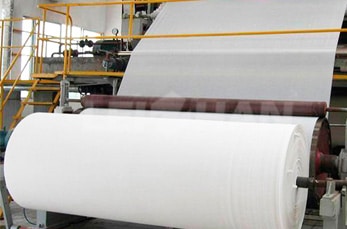 Small Scale Toilet Paper Rolling Machine can used to make toilet paper, tissue paper, facial tissue paper or handtowel paper. Generally, the customer choose virgin pulp or waste white shavings as raw material, after hydrapulper pulping, screening and cleaning enters into toilet paper making line. Whole set line equipment of toilet paper making can be provided by Leizhan company. More info about 10T toilet paper making machine as below.
More Info About 10T Toilet Paper Making Machine
Production type: toilet paper, tissue paper, napkin paper, etc.
Trimmed width: 2880mm
Basis weight: 14–40 g/m 2
Operating Speed:170-200m/min
Design speed: 220 m/min
Production capacity: 10-12T
Center gauge: 3780mm
Calculate daily operating hours:22.5 hours
Calculate copy rate: 95%
Calculate product rate: 95%
Dryer cylinder: 3000mm×3280mm
Cylinder mold: φ2000mm×3280mm
More information about 10T toilet paper making machine, welcome to contact with us. Email address: leizhanmachine@gmail.com.