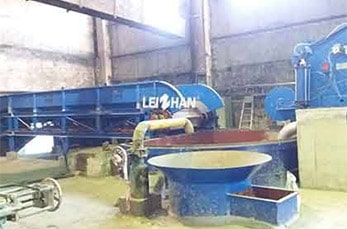 D type hydrapulper's rotor deviates from the center of tank bottom and thus makes the paper materials contact the rotor more quickly and more frequently. Traditional waterpower paper pulp machine makes a rotary flow unimpeded and paper materials move to the center of rotor from joining according to spiral trajectory. While D type hydrapulper has changed this way, making the materials contact the rotor more quickly, which can shorten the paper materials handling time. So the production capacity increase immediately without any increase in power and volume.
Main Features Of D Type Hydrapulper
1. Cutter blade is equipped between cutter and screen plate to prevent waste like wire, weavings twining and lower the running current.
2. Cleaning function, easy to start the equipment.
3. Three sets of bearings are equipped in the transmission system to prolong the service life and reduce maintenance costs.
4. Hydrapulper with volume more than 25m³ is equipped with drive support.
We are a professional maunfacturer of paper making machine and paper pulping equipment. We can offer a complete set of paper pulping line equipment and all kinds of paper making machine. Welcome email us for any need. Email: leizhanmachine@gmail.com.