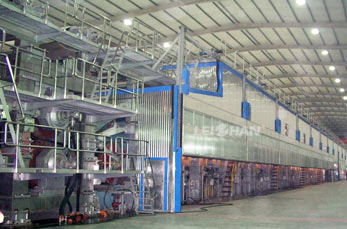 As a leading supplier and manufacturer of various paper manufacturing solutions and custom designed paper machines, Leizhan is capable to provide latest technology and services for kraft/tesliner paper board manufacturing system.
Leizhan kraft/tesliner paper roll production system contains two sections: kraft/tesliner paper pulping system and kraft/tesliner paper making system.
Kraft/tesliner paper stock preparation system
Machines required for Kraft/tesliner paper stock preparation line contains: Chain conveyor,  D type hydrapulper, Dump pump, High density cleaner, Pulp chest/Agitator, Pulp pump for coarse screen, Mid consistency coarse screen, Single effect fiber separator, Reject separator, Mid density cleaner, Mid consistency fine screen, White water tank, Low density cleaner, etc.
kraft/tesliner paper making machinery
Leizhan  Kraft/tesliner paper machinery has a basis weight range of 80-220g/m2 and a net width range of 1880-5800mm. It can produce 45-750 tons of high quality  kraft/tesliner paper with the working speeds range of 150-800 m/min.