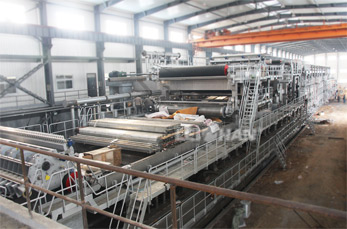 Raw material: LOCC
Finished product: Kraft paper/testliner paper board
Main equipments: ZDSD24 D type hydrapulper, ZSC4 High density cleaner, PZ2 Reject separator,  ZNS mid consistency pressure screen, ZDP380 double disc refiner.
The 50T/18H kraft paper manufacturing plant for LOCC recycling contains two parts: LOCC stock preparation line and kraft paper manufacturing line.



50T/18H LOCC stock preparation process:
Recycled paper is conveyed into D type hydrapulper by chain conveyor for pulping. Then the pulp is conveyed into the High density cleaner for cleaning heavy impurities in pulp.
After pulp cleaning, it will be conveyed into the pulp screening system equipment like Mid consistency pressure screen, Reject separator for the coarse screening and tailing processing of paper pulp.
Besides, the paper pulp will be conveyed into pulp refining equipment like ZDP series double disc refiner for further processing.
Lastly, the pulp is conveyed into NLS inflow pressure screen for the last step of pulp processing. After that, the pulp is conveyed into headbox for paper making.
Kraft paper manufacturing machine
Leizhan to supply kraft paper machinery has a basis weight range of 80-250g/m2, and the trimmed width is 2400mm. The paper machine speed range from 80m/min to 100m/min. Moreover, Leizhan paper machinery applies QCS automatic control system, which makes it easier to control and operate.