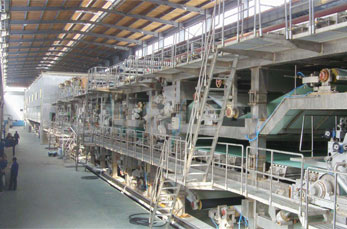 3200mm double fourdrinier muti-cylinder kraft paper machine mainy used to produce 80-200g/m² kraft liner paper. The kraft paper pulping line use waste paper as raw material. After paper pulping, cleaning, screening and refining, the accetps pulp enters in to 3200mm kraft paper machine to make kraft liner paper. We are able to provide complete stock preparation line equipment and kraft paper machine. High capacity, low energy consumption and high profits.
Main Technical Data Of 3200mm Kraft Liner Board Machine
Raw material: waste paper
Basis weight: 80-200g/m²
Trimmed width: 3200mm
Gauge: 4300mm
Design speed: 100-180m/min
Production capacity: 100 tons/day
Transmission form: AC variable frequency branch transmission
Dryness
Outlet Department: ≥18-21%
Press dryness: ≥38-42%
Dryness of finished paper: 90%-92%
Calculate daily operating hours: 22.5 hours
Calculate the copying rate: 95%
Calculate the yield rate: 96%
Paper machine equipment form:
Open headbox—double fourdrinier section—two Φ1250 large roll diameter presses—14 φ1800 dryer cylinders—sizing machine—8 φ1800 dryer cylinders—two-roll calender—B/M meter (reserved position) —Horizontal reel
More specifications about 3200mm kraft paper machine, please contact us. Email address: leizhanmachine@gmail.com.