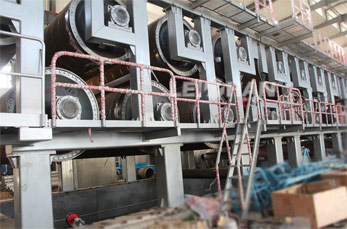 Raw material: LOCC
Finished products: High quality case board
Plant: Case Board Paper Production Plant
Main equipments: Chain conveyor, ZG series drum pulper, High density cleaner, Mid consistency pressure screen, Light impurity separator, Reject separator, Mid consistency cleaner, Fiber fractionating screen, Low density cleaner group, Vibrating screen



300T/18H LOCC pulp processing line
First, waste paper will be conveyed by Chain conveyor into the ZG series drum pulper for pulping.
Then, High density cleaner will be used for removing heavy impurities in paper pulp.
After pulp cleaning, pulp screening system equipment like Mid consistency coarse screen, Light impurity separator, Reject separator, Mid consistency cleaner, Fiber fractionating screen, Low density cleaner group, Mid consistency fine screen and Vibrating screen will be used for coarse and fine screening of paper pulp.
In addition to that, pulp refining equipment ZDP series double disc refiner, DD double disc refiner will be used for improving the beating degree and pulp quality.
Case board paper making machinery
Case board paper making machinery has the trimmed width range of 1880-5800mm, and the basis weight range of 80-220g/m2. It can produce 45-750 tons of high strength case board paper per day by using waste paper as raw material.