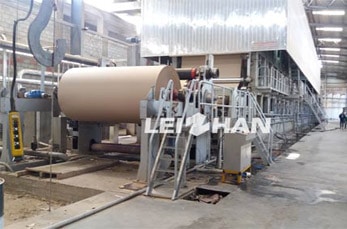 2200mm Kraft Paper Making Machine is paper machine with a production capacity of 50t/d. Of course, it can also be used to produce corrugated paper if you need. Due to the final paper produced has strong toughness, not easy to break, and has high smoothness, it has been well received by customers. If you have a kraft paper factory, I believe 2200mm Kraft Paper Making Machine is your best choice.
2200mm Kraft Paper Making Machine Main Data
Raw material: waste paper, wood pulp
Output paper: Kraft paper, Corrugated paper, Testliner, etc.
Basis weight: 80—150g/m²
Net paper width: 2200mm
Design speed:200m/min
Working speed: 50—180m/min
Production capacity: 50t/d
The conversion of waste paper into kraft paper requires two stages of pulping and papermaking. As a professional manufacturer of pulp and paper equipment, Leizhan can provide you with high-quality production equipment. If you have any needs, you can contact us at any time.
Email address: leizhanmachine@gmail.com.