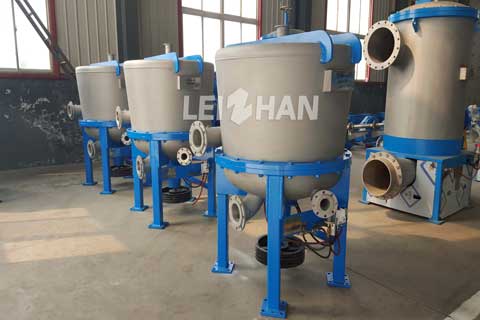 Light impurity separator is applied to remove light impurity and deal with tailing in the coarse screen. For the special design, light impurity separator has good performance in the pulping screen process.
Structure and Features of Light Impurity Separtor
The main body of light impurity separator is an inverse conical design, concave top structure, can from a strong vortex, forming a low pressure area in the top center and getting the light impurities and discharge them outside effectively.
Pulp outflow chamber of rotor is higher than undersurface of shell, forming a low pressure area around the rotor to collect heavy impurities. Under centrifugal force, the heavy impurities are thrown to the outermost of eddy and deposit in the groove that is outside the sieve plate for dischargeing. At the same time, it will reduce the wear to cutter and sieve plate, prolong the service life of them.
Leizhan professionally supplys paper machine and pulping equipment, such as pulper, cleaner, refiner and so on. Technical support and drawings will be provided at the meantime. Email: leizhanmachine@gmail.com