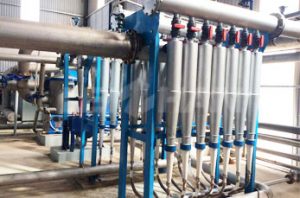 Usually, most customers choose waste paper as the raw material for the production of recycled paper. But there will be a lot of impurities in the process of waste paper and water mixing. Low density cleaner can remove heavy impurities in the pulp like gravel, dust and large ink particles. Low density cleaner is also known as centricleaner.
The Material Advantages Of Low Density Cleaner
The cleaner cylinder is SS304 finished tube (thickness 4mm), Stock preparation line equipment low density cleaner access to the pulp pipeline(thickness 5mm)and the pipe branch is SS304. The holder is carbon steel, the steel frame structure for polishing, sand rust rust, rust after brushing H82 epoxy zinc-rich primer two, H82 epoxy cloud iron intermediate paint together, polyurethane finish two processes and other processes, with anti-corrosion, rust and other effects.The access to the pulp pipeline liner of cleaner has been burnished already,it will not hanging pulp, plug the pipe.
Each cleaners out of the mouth,reject mouth are equipped with SS304 ball valve, it is good for maintenance and adjustment of the production capacity of the equipment in the running. it avoided system break down and increased the running ability of equipment continuously.
Stock preparation line equipment low density cleaner is closed slag.
Stock preparation line equipment low density cleaner have been sold in many countries as our star product. We have professional team to solve your doubts. If you want to know more about low density cleaner, please email me. Email address: leizhanmachine@gmail.com