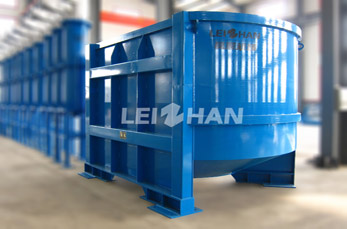 D type hydrapulper is researched and designed by our professional engineers based on the traditional vertical hydrapulper and reference of foreign relevant data. D type hydarpulper is an efficient pulp processing machine which is used for pulping various pulp board, broke paper and various waste paper.
Advantages of D type hydrapulper
The tub of D type hydrapulper applies to the international popular D type tub and VOKES rotor, which makes the contact between slurry and rotor more quickly and frequency. Compared with traditional hydrapulper, it can efficiently shorten pulping time and improves production ability without increasing motor and volume.
Leizhan pulp and paper processing machines
Leizhan offers the whole pulp and paper making line for paper plants, apart from the D type hydrapulper, pulp processing machines like Drum pulper, D type hydrapulper,  Vertical hydrapulper, Cleaning machine, Fiber separator, Reject separator, Vibrating screen, Pressure screen, Thickening machine, Double disc refiner, Deinking machine, Bleaching machine and so on are included in the scope of supply.