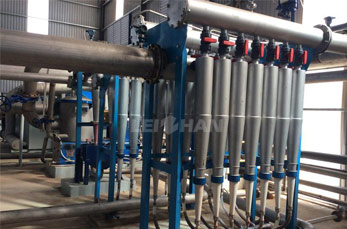 LD Cleaner in waste paper pulping line mainly used to remove small heavy impurities, like gravel, scrap iron and large ink particles. There will be a quantitative difference according to the size of the slurry flow. KH600 ld cleaner is used in 100T OCC stock preparation system. Here are more info about LD Cleaner.
KH600 LD Cleaner Technical Data
Raw material: LOCC
Accept pulp concentration: 0.8%-1.0%
Pulp consistency: 0.9~1%
Flow of each: 600L/min
Main part material: 304 stainless steel
Bottom cone: alumina ceramic
Slag discharge type: open dislagging
In addition to the open disagging type, we are also manufacturing close type. Want to know more about KH600 LD Cleaner or new type cleaner machine, please feel free to contact us. Email address: leizhanmachine@gmail.com.