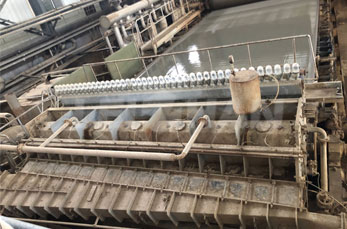 Paper machine headbox mainly used to ensure that paper feeds evenly and stably along the full width of the paper machine, and maintain the proper flow and flow rate to create conditions for the formation of uniform wet paper on the wire. Technical conditions of 2650mm paper headbox as below.
Technical Conditions of 2650mm Paper Machine Headbox
Paper type: Corrugated paper
Raw material: Local waste paper
Reeling paper width:2650mm
Width of headbox nozzle: 2950mm
Paper weight: 120-350g/㎡
Design speed: 200m/min
Working speed: 150-200m/min
Beating degree: 25-32
If you want to know more about 2650mm corrugated paper machine headbox, welcome to consult us. Email address: leizhanmachine@gmail.com.