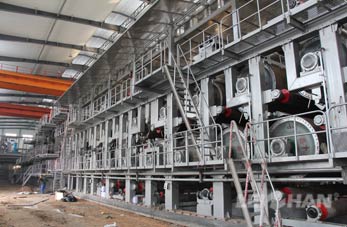 Raw material: Commercial wood pulp,
Commodity paper, Waste paper
Finished product: High strength carton paper roll
Project: 200T/D Carton Paper Production Project
Main equipment:BFW1400 Chain conveyor, ZDSD30 D type hydrapulper, ZSC7 High density cleaner, FJS1.2 fiber fractionating screen, etc.




200t/d Carton paper pulping process:
First, waste paper is conveyed by BFW1400 Chain conveyor into the ZDSD30 D type hydrapulper for pulping.
Then, adopt ZSC7 High density cleaner for removing staples, stones, glassed from the slurry.
Moreover, screening system equipments like ZNS1.2 1st mid consistency coarse screen, ZDFD3 fiber separator, PZ2 reject separator, FJS1.2 fiber fractionating screen, ZNS2 1st stage mid-density pressure screen, ZNS0.6 2nd stage mid consistency fine screen and so on will be used for coarse and fine screening of the pulp.
In addition to that, long fiber Low density cleaner group will be used for further cleaning the pulp.
Last but not least, the pulp is conveyed into NLS inflow pressure screen for the last step of pulp processing. After that, the pulp is conveyed into headbox for paper making.
Carton paper production machine for sale
Apart from the complete carton paper roll stock preparation line, Leizhan also can supply the carton paper making machine for sale.
It can produce 15-500 tons of high strength carton roll/corrugated paper by using waste paper as raw materials. It has a basis weight range of 60-150 g/m2 and trimmed width range of 1575-5800mm.