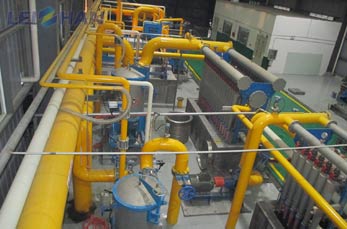 Raw material: Wood pulp, White shavings, Deinked pulp

Line: White Top Liner Board Manufacturing Line

Main equipment: Drum pulper, H.D. cleaner, L.D. cleaner, Fiber separator, Reject separator
Leizhan pay emphasis on introduce new technologies, upgrade equipment and make process improvement all along. Leizhan expertise can supply most cost-efficiency and energy-saving white top liner board making solutions and choose the most suitable equipments to meet customer's needs.

To make high quality white top liner board, paper plants should produce high quality pulp firstly. Leizhan offers customized and high technology DCS control pulp making system for raw material processing.
White top liner board pulp making line
First, raw material will be conveyed into Drum pulper by Chain conveyor for pulping.
After pulping,  pulp cleaning system equipments H.D. cleaner and L.D. cleaner will be used for removing heavy impurity in paper pulp.
After pulp cleaning, M.C. pressure screen, Fiber fractionating machine can be used for coarse and fine screening of paper pulp.
To process tail pulp in coarse screen,  Fiber separator, Reject separator can be used for tail pulp processing.