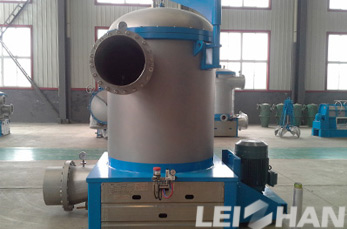 Recent years, paper recycling technique gets its popularity, including two essential processes, namely pulping, papermaking. As an necessary equipment in Pulping line, the Inflow Pressure Screen is used for the pre-wire screening of the pulp and paper machine in the pulping system. It is mainly composed of a casing,a rotor, a screen cylinder, a transmission device, a lifting device, etc. It features as follows.
High Efficiency Of Inflow Pressure Screen
The slurry enters the sieve along the tangential line with a high pressure, enforced by the centrifugal force, fiber and coarse impurities have been separated before it enters the sieve drum. Qualified fibers quickly pass through the screen cylinder by the pressure differential between the inlet and outlet.
Long Service Life Screen Cylinder
Since the pulp enters the pressure screen, the heavy impurities have been separated by the centrifugal force, thus reducing the impact and wear of the impurities on the rotor and the screen cylinder.
High Quality Outlet From Pressure Screen
The screen cylinder is made of stainless steel, greatly improving the removal rate of harmful impurities and the quality of pulp.
Low Maintenance Cost Of Inflow Pressure Screen
The spindle uses an advanced mechanical sealing system that is not easily damaged.
Over 30 years production experience, we are specializing in making all kinds of paper machines,including Pressure Screen. Welcome to contact us for more details. You can also get the whole set of Papermaking Machine. Email: leizhanmachine@gmail.com