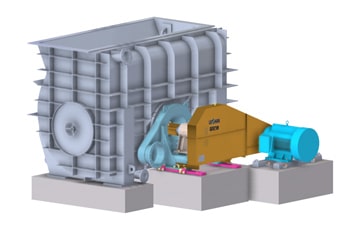 There are many kinds of pulpers in different paper recycling pulping line, like drum pulper, D type hydrapulper, High consistency hydrauper and so on. The broken paper hydrapulper described below is slightly different from other types of pulpers. The broken paper hydrapulper mainly used to deal with the damaged paper produced in the press section, calendering and reeling machine positions of various paper machines. Compared with other hyrapulpers, the beoken paper pulper has the advantages of high efficiency, save pulping time and reduce fiber loss. The features of broken paper pulper as below.
Main Fetures Of Broke Paper Pulper
1. The optimized rotor shape can achieve high turbulence effect with the lowest power consumption.
2. With high suction rate, the friction between fibers is greatly increased, so that the pulping is not only dependent on the mechanical force between the rotor and the sieve plate.
3. The contact frequency between the rotor and the pulp is increased to a certain extent by the new pulp chest structure.
Broken Paper Pulper can enhance the efficiency of pulping and help customer get more profits. Want to knowm more details about broken paper hydrapulper or another hydrapulpers in paper recycling pulping line, please feel free to contact with me. Email address: leizhanmachine@gmail.com.